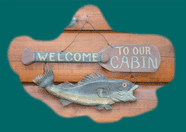 THE HUNGRY TROUT CABIN IS NOW CLOSED

Our cabin in the scenic Pensacola township, is now CLOSED as a rental property.
We have retired into this peaceful setting to enjoy the Mountain views, watch the wildlife, and hear the gentle water running over the rocks of Cattail Creek.
Thank you to the many families and friends who have enjoyed our cabin over the last few years.
We have decided to leave the website up to give people information on the area.
Other vacation rental cabins are available through contacting the Yancey Chamber of Commerce in, the historic town of Burnsville. www.yanceychamber.com or Carolina Mountain Realty who have a good selection of cabins like ours for rent or sale. Don't forget to mention the The Hungry Trout Cabin.
THE AREA
Cattail Creek Road which dead ends at the foot of the Black Mountains is ideal for walking, biking and fishing with golfing near by. The Pisgah National Park and Blue Ridge Parkway are on your doorstep. Downtown Burnsville with restaurants, supermarkets, antique shops, hardware and department store is only a few minutes away on the 197 and 19E. Asheville with large indoor malls, Wal-Mart, Sam's Club and Regional Airport is approximately 35 miles south of the cabin. Biltmore Estate on the outskirts of Asheville is a day trip to remember. Spruce Pine, which offers Gem mining, golfing at Grassy Creek Golf Club, shopping at Super-Wal-Mart, Sears and more are approximately 15 miles east from Burnsville. Winter skiing is available at Wolf Laurel Slopes from Thanksgiving to Mid-March (weather permitting).
During May to November a wide variety of activities, events and sightseeing opportunities from Train rides, to Mine tours are available. Numerous antiques shops and flea markets line the country roadsides.

The following are a sampling:
The Blowing Rock: An immense cliff of over 4,000 feet. www.southernhighlands.org
Biltmore Estate: Experience a National Wonder. www.biltmore.com
Gem Mountain Pan for valuable gems. www.gemmountain.com
Yancey County Chamber of Commerce: For all your information www.yanceychamber.com
Emerald Village: Underground Mine Tour. www.emeraldvillage.com
Yancey County:The Heart of the Blue Ridge. www.southernhighlands.org
Folk Art Center: Crafts and Crafts people.
Natural Center: A Bridge to the Natural World.
Hendersonville: Village and Flat Rock Area. www.historichendersonville.org or www.historicflatrock.org
Hot Springs Spa: Enjoy Hot Mineral Baths. www.hotspringsspa-nc.com
Cherokee Adventures: White Water Rafting. www.cherokeeadvertures.com
Crossnore School: Weaving room, gallery and outlet store. www.crossnore.com
Oconaluftee, Indian Village: Great Smoky Mountain Indian Village. www.oconalufteevillage.com
Tweetsie Railroad: Original family theme park. www.tweetsie.com
Blue Ridge Parkway: Scenic Mountain pass with great vistas. www.highcountryhost.com
Linville Caverns: Natural limestone cavern. www.linvillecaverns.com
Grandfather Mountain: Nature on a whole different level. www.highcountryhost.com
Chimney Rock Park: The best of the mountains. www.chimneyrockpark.com
Blue Ridge Scenic Railway: Journey back to simpler times. www.brscenic.com
Emporium Shoppes and Galleries: 150 shops and galleries. www.thegreattrain.com
Wilcox Emporium Warehouse: 230 merchants (shopping and dining) www.wilcoxemporium.com
Mast General Store: Historic Store since 1883. www.mastgeneralstore.com
Dixie Pottery: A mountain empire rich in history and tradition.
BRAG: Blue Ridge Fine Art Guild www.bragwnc.com
TRAC: Toe River Arts Council. www.toeriverarts.org.
Natural Bridge: One of the seven natural wonders of the world. www.naturalbridgeva.com
The Craft Shops: Southern Highlands Craft Guild. www.southernhighlandguild.org
Barter Theatre : Theatre that makes you feel alive! www.bartertheatre.com
Grassy Creek Golf & Country Club www.grassycreek.com
Mount Mitchell Golf Club www.mountmitchellgolfresort.com
Penland School of Craft: National Centre for Craft Education, offering courses www.penland.org
Wolf Laurel Slopes: Western North Carolina's Top Rated Slopes www.skiwolflaurel.com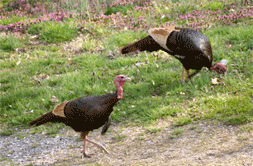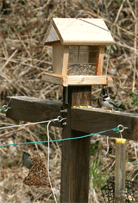 Wild Turkeys, Raccoons, Wild Birds, Red and Grey Squirrels are frequent visitors
Email: johnelsegoodusa@gmail.com or lindafvickers@gmail.com

Photo page for a few photos of the area.
The Hungry Trout Cabin is a member of the Yancey County Chamber of Commerce.
Click to view Linda's Animal Paintings in Oil Linda Vickers Elsegood: Animal Artist Homepage
for a full catalogue of recent work and prices. Below is the Hungry Trout painted trunk (not for sale) and "Bobcats & Bobwhite" 36' x 24'", priced at $3,845 including handmade cedar frame.
"It's Abbies M&M" and "My Favourite Chair" (King Charles Spaniel) two of the painting on the current website.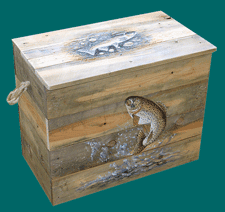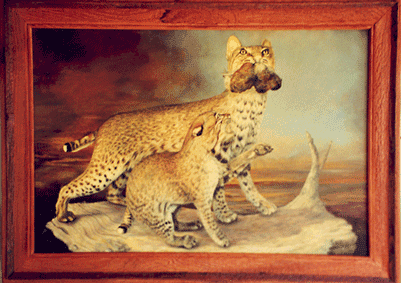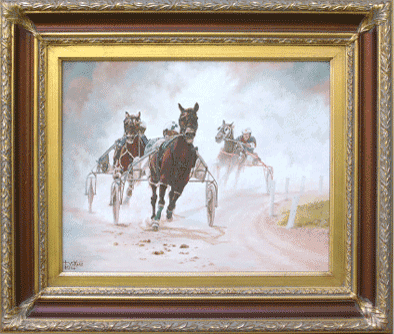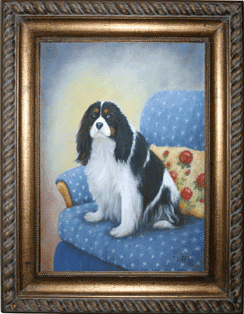 or John Elsegood's Bermuda Triangle Puzzle the only Jigsaw Puzzle of its kind.
or Images of Bermuda, a Gallery of Royalty Free photographs of Bermuda my photographic website.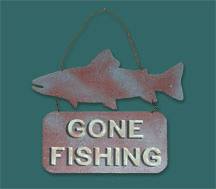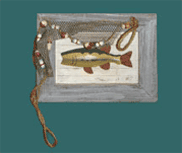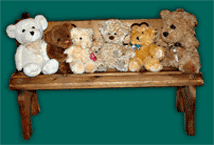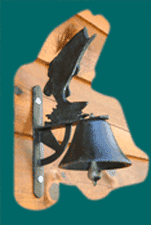 Ring the bell at feeding time for the Wild Turkeys.